When:
February 28, 2020 @ 5:00 pm – 7:00 pm
2020-02-28T17:00:00-05:00
2020-02-28T19:00:00-05:00
Where:
Sherwood Forest Park - Dome 3
5270 Fairview St
Burlington
Contact:
Jordan Brown
905-333-0777 x221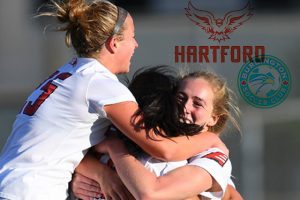 Burlington Soccer Club is delighted to host Hartford University womens soccer coaches for an ID clinic, February 28th, 5-7pm at the Sherwood domes (dome3). The Hartford Hawks are a D1 school who compete in the American East division. Coaches Todd Sadler and Dani Britt will be leading the players through drills and sessions in order to ID potential future players. Players will have the opportunity to learn from the coaches as well as ask questions about the school and soccer program. 
The camp is open for anyone to register but players should be serious in their pursuit of D1 Soccer. Players born 2003 and 2004 may register immediately. 2005 born players should request attendance through jbrown@burlingtonsoccer.com.
To register, please visit https://members.burlingtonsoccer.com/ where you will need to create an online profile if you do not already have one. Due to the space within the dome, parents are not permitted to watch the session.
If you have any questions regarding the camp, please feel free to reach out to Jordan directly.
Link to Hartford Women's Soccer website https://www.hartfordhawks.com/index.aspx?path=wsoc