When:
November 14, 2020 @ 8:00 am – 9:00 am
2020-11-14T08:00:00-05:00
2020-11-14T09:00:00-05:00
Where:
Sherwood Forest Park (Dome 3)
5270 Fairview Street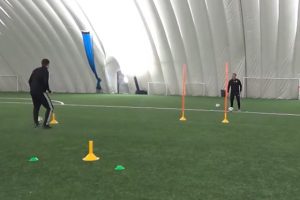 The Burlington Soccer Club is committed to assist with the ongoing development of all of our coaches.  Our aim is to improve the quality and standard of all the coaches within the club. Ongoing coach development and education is vital for successfully developing players of all ages regardless of their ability or skill level.
Burlington Soccer Club is pleased to announce our November Coaching Development Session, which is aimed at coaches working within our Recreational, house league, and Development Programs.  This clinic will be beneficial for coaches who are working with players U8 and up.
As with all of our coach's sessions, they are designed to complement the existing coach certification pathway. The session will provide coaches with additional information and experience, which will help build their own personal development.
Developing Football Awareness, 8 to 16 year olds
Our November Grassroots coach's session will carry on from our April video presentation and focus on 'Developing Awareness' in young footballers. Football awareness means having an understanding of all your options available by knowing what to do before you get the ball and once you get the ball. By developing this vital knowledge, it will help your players make quicker and better decisions while also developing their speed of play. This will be the on field component
Note: Unfortunately, due to the Covid-19 restrictions, there will be no game situations included in this session.
For more information and/or to register, please contact David Shankland