It's that time of year – time for our 2nd Annual Pawther's Day Event.
Our Pawther's day event brings together a few things we are passionate about at BSC; community, animals, and football. This year, on Sunday, June 11th, bring your family, friends, and four-legged companions to Corpus Christi CSS as our Men's and Women's League 1 Premier teams play and enjoy some four-legged friendly vendors, puppy yoga, and so much more, all the while supporting both the Burlington Humane Society and Niagara Dog Rescue.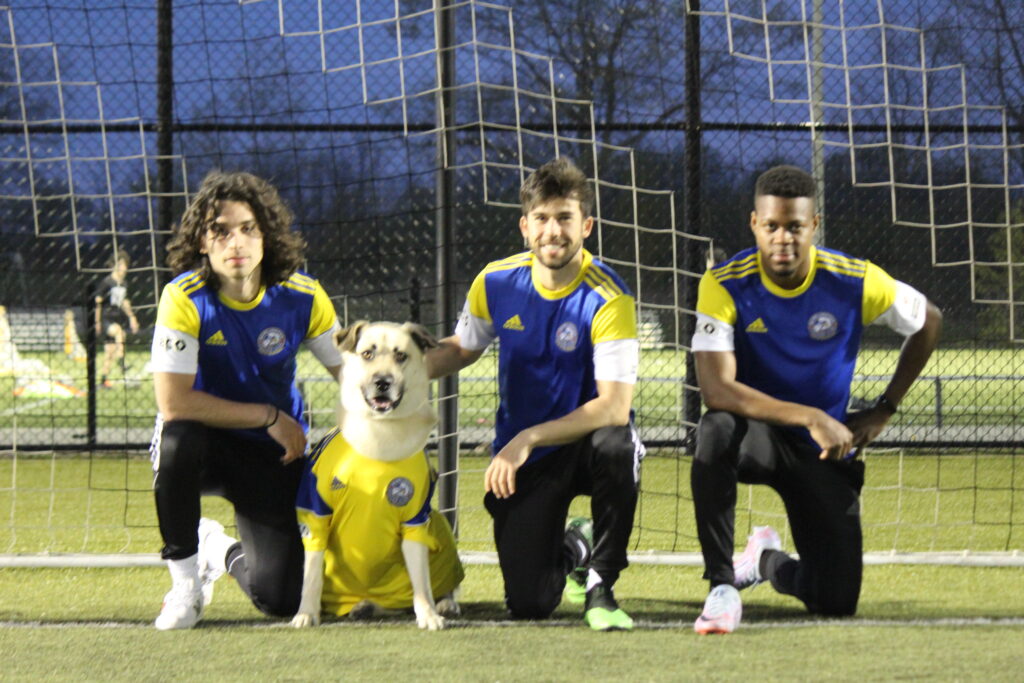 ---
Schedule for the Day
Vendor Market Opens at 11:30am
Women's team takes on Tecumseh SC at 12pm
Puppy Yoga takes place at 2pm with Jesi from Mind Over Mess
Men's Premier team takes on Scrosoppi FC at 4pm
Vendor Market closes at 5:30pm
**the first 25 animals at each game will receive a special "pawther's day" bandana and cookie donated by Bosco & Roxys
---
The Animal Organizations
Each year, we select an animal organization to receive the funds from the day and this year we've gone more local than ever before:
What began as a small, community led venture in 1974, expanded into one of the province's premier non-kill shelters. The BHS believes that each and every animal coming into their care deserves a better life, and has the right to a safe and loving home. In addition to animal adoption and advocacy, this incredible nonprofit also does both community outreach and education, in addition to a Pet Therapy Program that visits retirement communities, hospices and so much more. Learn more about their programs and animals available as they will be on site.
Niagara Dog Rescue (NDR) started in 2015 and since their inception, and with the support of over 150 volunteers, they have been able to rescue over 9,150 dogs. Their mission is simple, focus on dogs at immediate risk of being euthanized at high kill shelters and find them homes. Join them on Sunday as they will be on site, with animals throughout the day that are looking for loving homes. Plus…they'll be putting the "puppy" in puppy yoga.
---
Puppy Yoga you Say…
We know soccer may not be your thing, but puppies are everyone's thing. This year, for a minimum donation of $10, all are encouraged to grab their matt, a towel, some athletic attire and head to the grass for some yoga and puppy love!
Our yoga instructor is the one and only Jesi from Mind Over Mess. Jes is a certified power yoga instructor who has developed a community centered around her passions and practices toward health, happiness and self discovery. Learn more about Jesi and her yoga teachings here.
---
Who will be there?
This year, we will have the following vendors on site:
All passionate animal owners have that one piece of swag that says "rescue pawrent" or "my favourite child's my dog"…amongst many other sayings. If you don't, or are looking for that special customized piece, they're for you!
Freedem Dogs is a 100% volunteer run organization who's mission is to support animal rescue organizations in easing their financial hardships so they can continue to serve their missions. All proceeds generated from the incredible swag purchased goes directly to support our four-legged friends.
What began as a small feed and supply store in 1975 has since expanded to over 44 stores nationwide. While they have only grown larger, their passion for pets and the people they own has never wavered. Ren's Pets believe that our furry companions deserve the best care and highest quality of products.
Treatzee is an all natural, small-batch, locally made animal product company specializing in all things both delicious and nutritious for your family member. From peanut butter training treats to paw butter, these passionate pet parents have a product any animal will love.
With a passion for healing and energies and a love for animals, TSP Wellness Co. has been supplying the highest quality crystals, gemstone bracelets and goods for a few years.
---
The Pet Facts
Did you know that…
Canadians surpass the global average in pet ownership as 61% of us own a pet
Furthermore, 95% of Canadians consider pets family
Canadian households spend $9 billion on pets
During the pandemic, 3.7million Canadians newly adopted, fostered or purchased a pet

post pandemic reality – shelters are operating at nearly full capacity

Canada has earned a 'D" on the World Animal Protection Index
---
How Can I Help?
Join us on Sunday, June 11th as…
Proceeds from vendor purchases and League 1 Ticket sales go to support both organizations
Donate directly through PowerUp by clicking here
Join us for Puppy Yoga – register online in advance by clicking here, or pay with cash or card day of
Support the organizations by purchasing something off of their amazon wish lists
---
Thank You
In addition to all of the those listed above that are attending that day, we would like to also thank
---